We have had an eventful week or so. On our first night back on the road, I accidentally stepped on a cactus while gawking at the amazing sunset we had. It seemed like an pretty minor incident — after pulling the needles out my foot felt as good as ever.
Quinn had a bout of the "runs" that started even before we left Salida. Since that was the only symptom that he had (and he was in otherwise good health) we just watched him and kept him as hydrated as we could.
Meanwhile we had a nice drive out to California, and we even got to visit with Witt's cousin, Brad, and his family in Sparks, Nevada, along the way. They were fantastic hosts and we all had a wonderful time visiting with them.
Our first destination was in Red Bluff, California, to visit Craig at Whitefeather 4×4 Conversions. He was the guy who installed the 4WD suspension on our van (before it was even our van). We thought that it would be a good idea to get Craig to look our setup over (to check for worn parts) before we drive into Mexico. Craig and his crew went over the whole drive train and pulled apart the front hubs to re-grease them, and replaced a few worn bushings. The result is a big improvement in how the van handles, and hopefully fewer repairs down the road.
Q's diarrhea still hadn't improved, and after consulting with Jen's sister, Heather, (thanks Heather!) we decided to take him to the ER. The docs pronounced him otherwise healthy and let us go telling us to keep hydrating.
Next stop, Grass Valley CA, home of XPCamper. Marc, the owner, designed and manufactures a pickup-mounted camper that is very different from the so-called "slide in" campers from other companies. Marc's camper is more like a yacht in terms of appearance, construction, quality, and price. Marc sold us the Webasto diesel appliances in our van, and we were there to try to find out why our stove hasn't been working.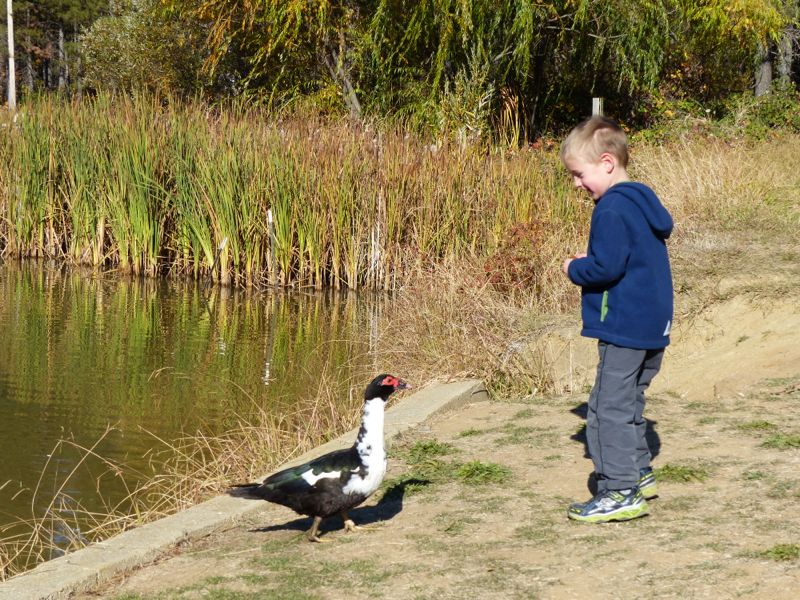 To make a long story short, we were there for three days and discovered that the overheating problem was due to an improperly-connected fuel line, and that the stove performs better if it doesn't have to pull fuel from way down at the bottom of our rear fuel tank. We fixed the fuel line connection and installed a small plastic 3-gallon fuel tank in our rear cargo area just to power our appliances. And given our previous frustrations with the rear tank, we removed it altogether, eliminating 50 pounds or so from the van in the process. There is a pot of chili simmering on our stove as we write this! Hooray!
A huge thanks goes out to Marc and his crew at XPCamper. Witt spent three days using his shop space, borrowing his tools, and most importantly drawing on his expertise. He charged us only for the parts he gave us and a small amount for his employees' time.
By the 7th day of Q's diarrhea we decided to take him to the ER in Grass Valley. They ran some more tests there (which were inconclusive) but they gave us a prescription for giardiasis and recommended that we start giving it to Quinn as a precaution. By the next day his issues were much improved!
Just as Quinn was getting better, my foot started to really bother me. I had pretty much forgotten about my cactus run-in as my foot had been completely fine up until now. Quinn and I had been walking around town a lot while the van was in the shop and it never bothered me. Now it throbbed and was red and swollen. After another call to our family pharmacist for advice (Heather — thanks again so much!), and a call to our insurance company, we paid a visit to the local urgent care center.
It turns out that my foot was badly infected. The physicians assistant (PA) pointed out that I even had small streaks working their way up the side of my foot. (From what we had learned in our wilderness first aid class, Witt and I knew that the infection was serious). Fortunately we all had tetanus shots as part of our pre-trip regimen. The PA cleaned the wound and called an antibiotic prescription in to a nearby pharmacy. We picked up the prescription and I started taking it right away.
Since Witt and Marc were still working on the stove at this point, we decided to get a hotel room to give Quinn and I a place to rest and wait while the work was completed. After 2 days of resting and soaking my foot frequently (along with taking the required antibiotics) the infection in my foot was subsiding.
At this point, the stove repairs were going well and my foot was getting better. Then Quinn started complaining that his tummy hurt a lot. After seeing how much pain he was in and that it wasn't going away on its own, we made another trip to the Grass Valley ER. More tests were ordered but they all came back normal. By this time Quinn had fallen asleep so they discharged us. The next morning he was his normal happy camper self.
Have we lost you? Here's a round up: in the past week, we've had our van suspension serviced and the diesel stove now works (for the first time ever!). After 3 ER visits and 1 trip to urgent care, Quinn is healthy again and Jen's foot is back to normal.
We're now heading south for warmer weather and to our next major destination: Mexico!