We had a quiet Christmas day – Quinn opened a few presents, and we all went out to play on the beach. Walking, making sand castles, and exploring the amazing variety of shells here can occupy many hours in the sun. A big surprise came the following morning in the form of an email from Henry and Kathy, Quinn's grandparents on the Sparks side. They said they would be driving down to meet us the next day! We were very excited, but decided to keep it a surprise for Quinn.
Debbie and Brian have been to Kino several times before, and graciously showed us around town, including all of their favorite restaurants. We really enjoyed the food at the Plywood Palace. As the story goes, it used to be named after the lady who ran the place, but there was no sign up. When she put up plywood walls around what was an open-air patio eating area, the local gringos took to calling the place the Plywood Palace. She embraced the name and had signs made up, and the rest is history.
Meanwhile, we were looking for a way to get the van fixed. Other residents at the condo complex we're staying at referred us to Raphael, a local mechanic who they said speaks English. Witt went to find him on Thursday, and it turns out that the shop where he works is owned by an older American named Dillard. He used to have a shop in Denver, but as he put it he came to Kino one time too many, met a girl, and stayed. That was thirty years ago, and now he owns a small shop here in town.
Raphael took out the fuel tank to inspect the pick-up line for cracks. He didn't find anything (other than some air in our fuel lines), and suggested that we take it to a diesel specialist shop in Hermosillo. He even offered to ride along to make sure we could find the place and to interpret for us.
When Henry and Kathy arrived on Friday Quinn was beside himself with excitement. He was really happy to see his grammy and papa! Papa wasted no time in starting a game of chase.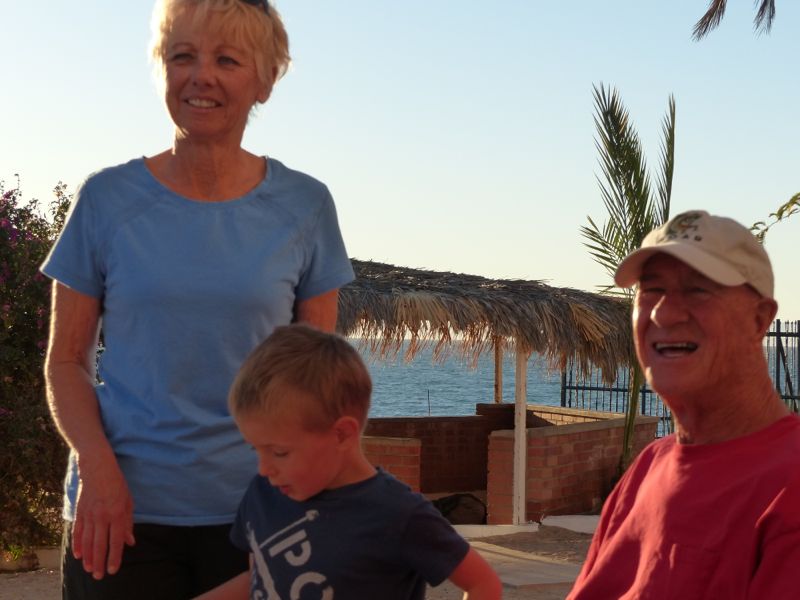 On Saturday we went for a short hike at the north end of the bay, followed by an amazing meal at Jorge's, a seafood restaurant in town. We started out with giant (and very tasty) margaritas for $4, accompanied by a huge plate of steamed clams.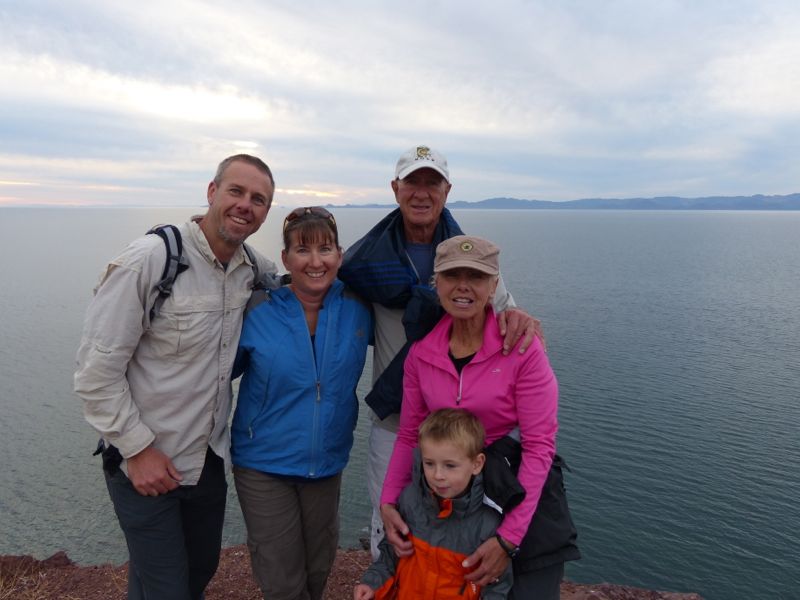 Sunday was the day of Quinn's big birthday party (celebrated a few days early since our friends and family are leaving on Monday). We made fajitas and tequila drinks, and Jen even baked her amazing vegan Quinn-friendly birthday cake. The piñata was a big hit, although we discovered that it didn't come with the candy already in it. You have to cut a hole and add your own. Fortunately Jen had bought some candy just in case, so all was right with the world.
On Monday Witt got up bright and early to meet Raphael. They drove the 100km to the shop in Hermosillo, but the van was running normally. To make a long story (and day) short, we drove 250 miles round trip to the town of Ures in the hills east of Hermosillo trying to replicate the problem. We never could; then van ran perfectly the whole time.
We discussed what to do next – do we have enough confidence in the van to carry on, or should we head north and re-assess our choice of vehicle, and perhaps try again another time? In the end we decided that we're not ready to throw in the towel just yet. Next stop Copper Canyon!