After our tequila tasting adventure, we spent a couple of nights near Lake Chapala. On Saturday we stopped in Aijic (Ah-hee-heek) for breakfast. It's a quaint little town on the lake and home to a large population of gringo retirees.
One thing about traveling with your own vehicle is that big cities are tough. You don't really want to drive a big camper around in them, there's no place to park, and if you want to stay more than one day you have to pay to park and pay for a hotel, since there are no campgrounds anywhere near the attractions in the city center. The other choice is to camp outside the city, then take an expensive taxi or a long bus ride in.
This time we decided to brave the big city and drive into Guadalajara for lunch. With the aid of Pocket Earth (on her iPad) Jen did a great job of navigating us around the city, and we were able to find a place to park the van that was walking distance to the city's central plaza. We walked the plaza enjoying the people, the music, the fountains, and the architecture. We had lunch and by 2pm were headed out of town.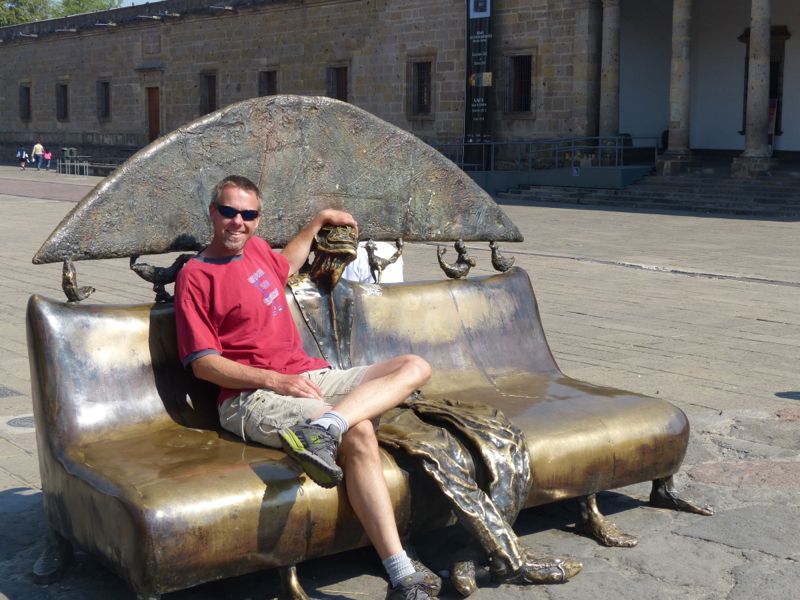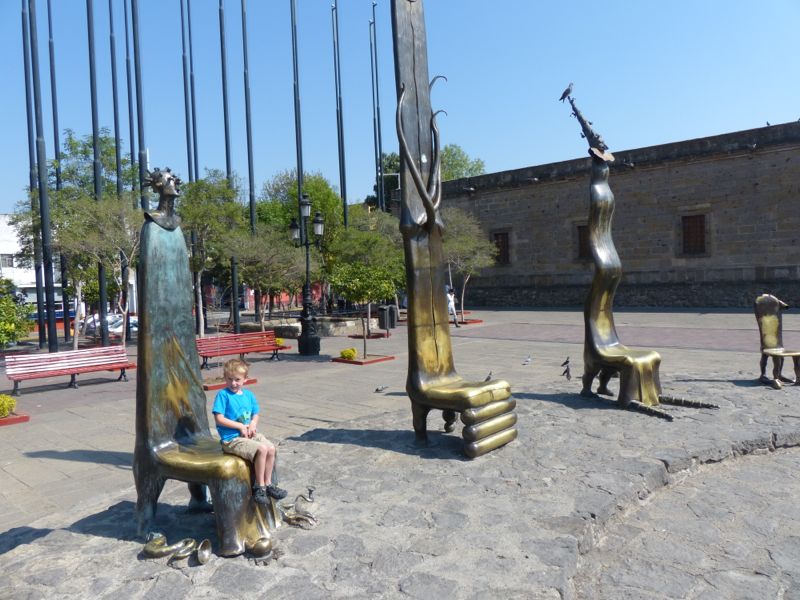 More street scenes from the city…

The route out made us appreciate the difficulty and value of effective highway planning. We were on the ring road around Guadalajara (a major highway with 3 lanes in each direction). We needed to exit onto another major highway leading away from the city. Signs directed us to an exit that emptied onto a two-lane residential road. The road wound for a few kilometers, then entered a tiny village and became narrow and rough. A sign pointed toward Guadalajara and the highway we needed, but we wanted to go in the opposite direction, away from the city. We continued on, but the road dead-ended at a fenced yard full of chickens. We turned around and followed the sign for Guadalajara. The dirt road turned into an entrance ramp, and we were back on the tollway headed for the city. Soon there was a "retorno" that took us up an exit ramp, over the highway, and back in the opposite direction. The entire structure had no other purpose than to enable U-turns on the highway.
The highway toward Guanajuato was smooth and fast, at least until we hit the peregrinos. Not penguins, but pilgrims. One lane of a four lane highway was blocked off to allow people to make an annual pilgrimage on foot to the church in the town of Lagos. Traffic slowed to a crawl, and it was after dark when we finally pulled into the campground outside Guanajuato.