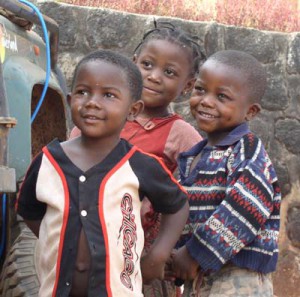 Even though we've worked hard and saved to enable us to quit our jobs for a year to do this trip, we have to acknowledge that a large part of where we are today is due to dumb luck. Mostly it comes down to having been born into a middle class family in a developed nation, where we have had the opportunity to get a good education and well-paying jobs.
We have always had a goal of doing some volunteering during our trip. Do Good As You Go, which we learned about at the Overland Expo in 2012, specializes in helping travelers like us find volunteer opportunities while on the road, using travelers' skills and experiences to help make a difference for communities around the world. Jen has been passionate about education for quite some time, and attended a presentation by Sal Khan of the Khan Academy in Denver. Later she learned about the the Foundation for Learning Equality (FLE), whose KA Lite project aims to bring Khan Academy video content to communities and schools with limited or no internet access.
Putting these three organizations together seemed to be the perfect fit for our passions and skills. We're working with Do Good As You Go to identify communities where we can spend a few days deploying the KA Lite system to provide educational content to local schools or other learning organizations. Do Good As You Go and FLE are now working together to introduce the deployment of KA Lite to other travelers. We're proud to have helped make this connection and look forward to our continued involvement in this exciting project!
Jamie Alexandre, founder of FLE, recently gave a talk at a TEDx conference where he mentioned our collaboration.
The map below shows where we've installed KA-Lite.