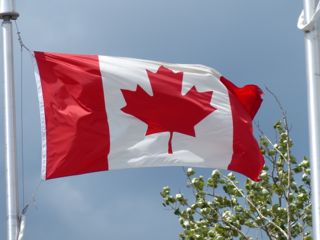 It has been about one week since our last blog post and, coincidently, almost all of that time we have been in Canada — our first full week in Canada on this trip!
We entered the province of British Columbia from Eastport, Idaho, and camped our first night in Lake Moyie Provincial Park. The campground was really nice — it was positioned on the north shore of the gorgeous, sapphire-blue colored Lake Moyie and it had really well-spaced campsites, tall shady trees, a nice playground, hot showers and flushing toilets. (I really don't mind using most pit toilets, but I still prefer the flushing kind when they are available!).
Quinn had a fabulous time in the playground. Someone had left a newspaper on an adjacent picnic table and he figured out how to wrap dirt and rocks in a sheet of newspaper, carry it up the ladder and then dump it down the slide to make lots of "dust". He also managed to teach some other kids how to do this and we were sure that we would hear complaints from other parents about this. Fortunately that did not happen — we had a clear view of everything from our campsite but no one seemed to mind the spectacle enough to come over to talk with us about it. It kept Quinn entertained for most of the evening so we just made sure to clean him off in the shower before bedtime.
The next day we visited the train museum in Cranbrook, BC. It was so very worth the visit and our time there. We toured seven cars from the newly-refurbished Trans-Canada Limited, which offered first-class travel from Toronto to Vancouver in the late 1800s (starting around 1876, if I remember correctly). We were positively blown away by the finery and craftsmanship that went into building these train cars. Lots of complex and incredibly beautiful inlaid wood trim everywhere and there were hardwoods used from exotic Central American locations like Honduras. We saw the sleeping cars (which were converted to sitting mode during the day), the washing / dressing rooms, the kitchens, the salon cars and it was all more luxurious than anything that we'd previously experienced (including staying at the Broadmoor in Colorado Springs, the Ritz-Carleton in Beaver Creek and One Ski Hill in Breckinridge, Colorado. Clearly they don't make things like they used to). It was very impressive and we recommend it to anyone who might be in the area in the future.
We made our way towards Crowsnest Pass, which is just across the provincial border in Alberta. There we had an invitation to stay at Doug and Karen Manzer's lovely mountain home while we conducted our first volunteer job nearby.
Their home is on the edge of the mountain wilderness (with frequent bear sightings in the area) and they are also fortunate to have incredible views of the nearby Turtle Mountain (more on that later). Doug was out of town with their daughter, Emily (15), during our stay, but Karen and their daughter, Megan (17), and their son, Nick (13), were fantastic hosts and went out of their way to make us feel welcome. We are fortunate to have made such great new friends this week!
We arrived in Pincher Creek, Alberta, on Tuesday morning, which was coincidently also the day of our 12th wedding anniversary. We were warmly greeted at the Napi Friendship Center by Andrea Anderson, who works at the center and who hosted us during our visit.
The Napi Friendship Center primarily serves the Aboriginal community in the area and helps members of that community improve their lives through the various programs that they coordinate. We were there to install the KA Lite software (which is a light-weight offline version of the educational videos offered by the Khan Academy) and to train people at the center on how to use it.
As it was our first volunteer assignment our learning curve was a little steeper than it will probably be when we visit other communities in the future. Thus is took us about 2-1/2 days to successfully complete all of our objectives. The great news is that we learned quite a lot about the installation process and also developed some scripts and supporting documentation that we will be able to reuse in visits to other communities.
We also learned a lot about the local community. For example, while closest First Nation Reserve is the domain of the Blackfoot People, the Napi Friendship Center is very inclusive in its mission and so it also supports other Aboriginals.
We also were able to visit the Heads-Smashed-In Buffalo Jump Unesco Heritage site. While the place does have a strange name, it is the site where Native people hunted buffalo for 6000 years (SIX THOUSAND years!). The really fascinating part is how they hunted the buffalo. In preparation for surviving through long winter months, they would trick large herds of buffalo into stampeding off a large cliff to their deaths. To do this provided lots of preparation and several groups would work together to improve their chances of success and survival. Of course when the numbers of buffalo were diminished by 1879 (due to various other factors), they could no longer sustain this way of life.
This morning we learned some things about the geologic history of the area. We went to the Frank Slide InterpretativeCenter to learn about a massive rock slide that happened on Turtle Mountain in 1903, killing 90 people and destroying most of the buildings in the town of Frank in the process. You really have to see what still remains of the mountain as well as the towering piles of rock and debris that cover the landscape to get a decent perspective on the scale of this slide. We found it to be mind-blowing.
Our work in Pincher Creek complete, we are planning to take the Kananaskis Highway north to Banff. Highway is a bit of a mis-nomer, as it's actually a dirt road – it's supposed to be quite scenic and has been recommended by several people.