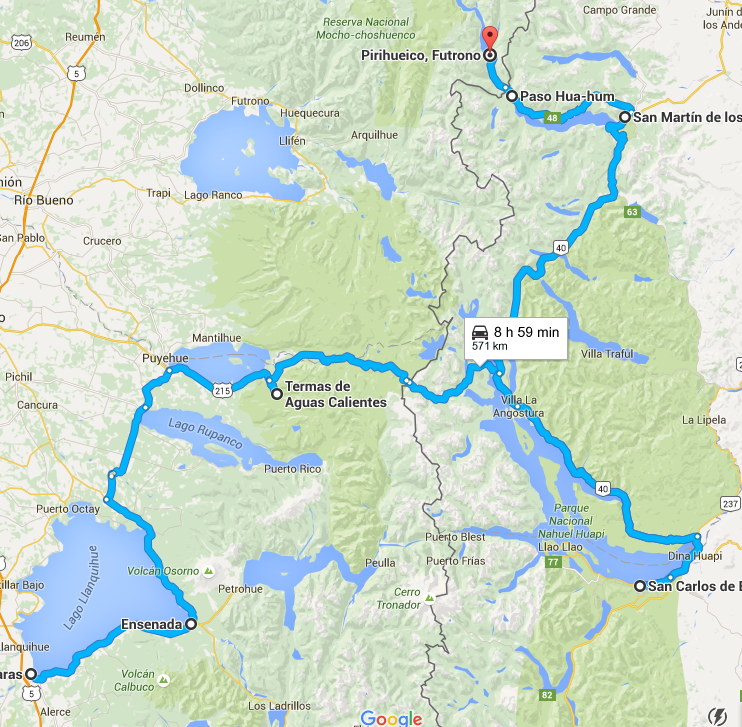 Thanks to Debbie for the idea for the Google Maps screenshot to provide a reference of where we've been! I should have been doing this for the whole trip. Oh well, better late than never. This map leaves off at Puerto Pirihueico, because Google apparently hasn't heard about the ferry we took across the lake to Puerto Fuy. So we made it a bit farther than is shown on the map, but this gives a good idea of where we've been.
If the Carretera Austral reminded us of the Pacific Northwest, as we've gone north we feel like we are at home in Colorado. Gorgeous mountain lakes are framed by the now capped peaks of spring, and remote back roads offer stunning lakeside campsites.

If you haven't been following along on the Sparks Tracker, take a look at it. The points on the map are almost all places we camped or stayed for the night. If you zoom in on Southern Chile and Argentina, you'll see that our points are very close together. The conversation goes something like, "Oh, look, we could camp on that lake! Yeah, but it's only noon. That's okay, we'll just hang out here for the day."
We've decided that part of the reason we're enjoying this part of the journey so much is more than just the natural beauty. We know that our trip is coming to a close (only two weeks before we ship the van back! Yikes!) and we're trying to savor every minute that we can. It's going to be cold in Colorado when we get back there in January!