Another year and another 10 countries behind us. How time flies!
For those interested, here's how our budget worked out for the past year. Actually, the numbers in the charts below cover nearly 14 months of expenses from 1 July 2014 through 28 Aug 2015.
These numbers include everything we spent while on the road except our trip to the Galapagos, including our expenses shipping the van from Panama to Colombia. They also don't include our home expenses such as our storage locker. Here's how it breaks down by country: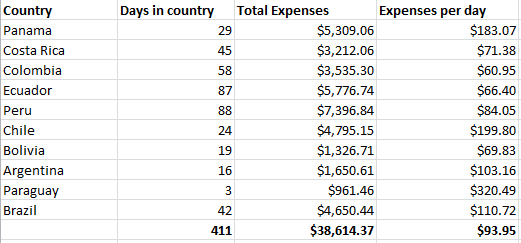 The per-country numbers don't mean a whole lot. For example, Panama includes shipping the van, Peru includes new tires and batteries for the van, and Chile is where we happened to be when we paid for our health insurance for another year. Our time in Argentina includes a $700 refrigerator repair. So just because the expenses for a particular country are high doesn't necessarily mean that country is expensive.
What I think is telling is the overall average of $94 per day. When people post the "how much should I budget" question to forums, the answer is often that $100 per day is a good ballpark figure. Our actual results support that. Based on how we travel, and the fact that there are three of us, I think two people traveling on $80/day is probably reasonable. If you have any must-see, big-ticket items on your bucket list (think Galapagos, Easter Island, or Antarctica) those are extra.
Here's our budget by category: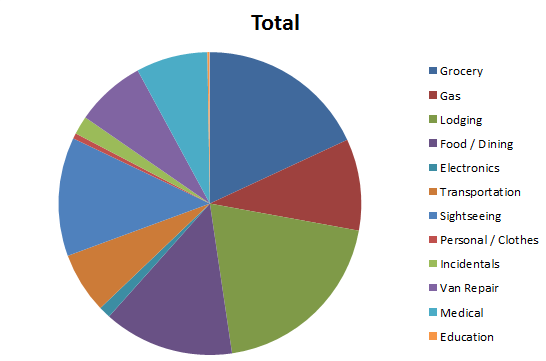 Feel free to post questions in the comments, and happy trip planning!