After coming out to civilization again we decided to spend another night in Riley Creek Campground near the park entrance so we could take care of some laundry, catch up on email, and take much-needed showers.
Denali has the only working sled dog team in the National Parks system, and Quinn decided that he wanted to stick around until 2pm to see a demo of the dogs. That left us with lots of time, so we indulged in a pancake breakfast in the van, then visited the Murie Science Center for fun with stuffed toy birds and a dinosaur puzzle on the floor.
The sled dog demo was definitely worth waiting around for. The park's first superintendant back in the early 1900s was given a budget of $8000 (about $110,000 in today's money) to manage the park's 1.6 million acres. Oh, and he had to pay himself out of that budget. He was an expert musher, so he figured the best thing to do would be to buy a team of sled dogs. The park has used dog teams exclusively for all winter work (supporting researchers and patrolling the park) except search and rescue almost continuously since its inception. The only exceptions were during WWII when their dog teams were appropriated for combat duty. They were replaced briefly with tracked vehicles, which "although they can travel farther in a day than the best dog teams, have far more trouble with carburetors."
The demo itself consisted of 5 dogs being hooked to a sled which they very enthusiastically towed around a short gravel track. All of the dogs went absolutely nuts when it was time to get hooked up. The theory is that whoever barks the loudest gets to be on the team. The dogs clearly loved to run, pull, and work. In other places dogs are trained and exercised in the summer by getting hooked to an ATV and pulling that along. We saw a team pulling an ATV along the Denali Highway a few days ago. I don't have the bandwidth right now to upload the video I took of the dogs in the park, but someone else already did.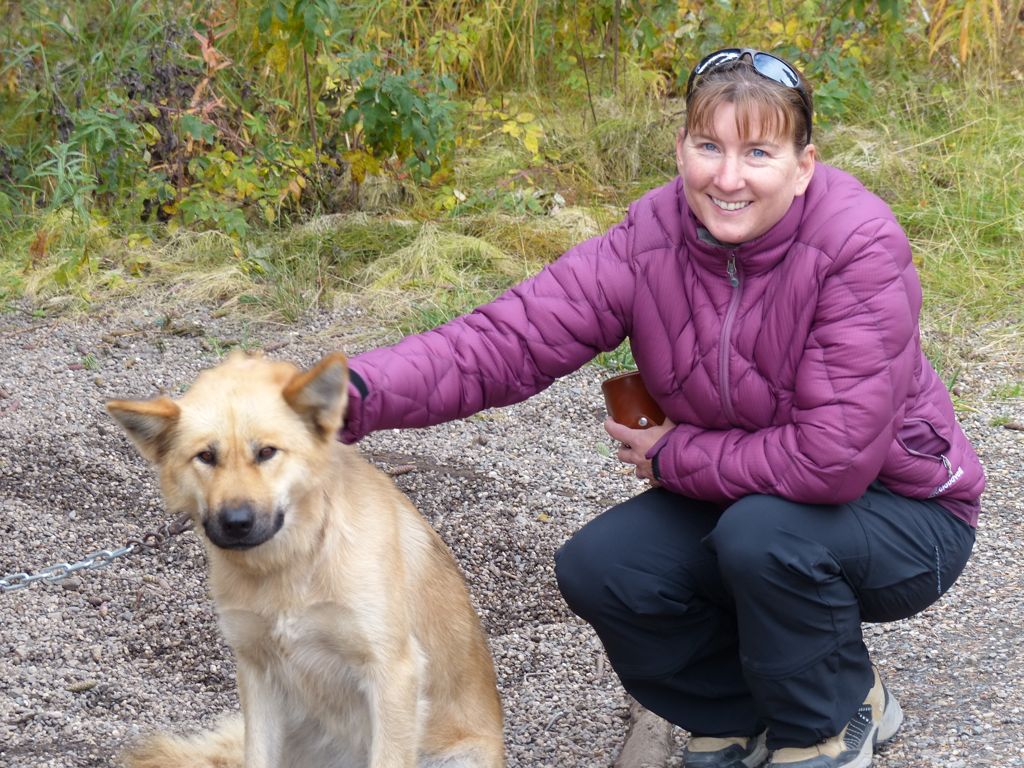 At the end of their careers the dogs are put up for adoption. The only requirement is that the adopters live an active lifestyle in a northern climate. Skijoring anyone?
In case you haven't had enough doggie cuteness today, check out the Denali Sled Dog Center's puppy-cam.